Den här veckan är det bloggen
Flukten fra virkelighete
n som står värd för En smakebit på søndag. Poängen är att man ska bjuda på ett utdrag från den bok man läser för tillfället.
Just nu läser jag
Love as Always, Mum xxx
av Mae West, som är dotter till det brittiska seriemördarparet Fred och Rosemary West. I boken berättar hon om sin uppväxt i det numera ökända huset på 25 Cromwell Street i Gloucester, där föräldrarna utan sina barns vetskap torterade och mördade flertalet unga kvinnor. Även barnen utsattes för våld och övergrepp av både Fred och Rose, men de kunde även uppträda som helt vanliga föräldrar som skojade med barnen och bakade tårta när någon fyllde år.
Jag har nästan läst klart boken och har redan börjat fila på en recension, som bör komma till veckan. Kom gärna tillbaka då!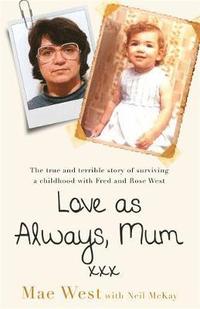 Dad always kept a close eye on current affairs and would insist on watching news programmes whenever they came on. He seemed obsessed with them, especially
News at Ten
. We all had to keep quiet and watch with him. In hindsight, I wonder if he may have done this out of worry, somewhere at the back of his mind, that one of the bodies had been discovered. Not the ones in the house, but the others he'd buried in the fields near Much Marcle. He had no patience with soaps and drama, which, as we grew older, we used to enjoy watching in our room - a luxury most of my friends didn't have because Dad used to steal the TV's and the electricity they were plugged into. He was especially scathing about
EastEnders
, which he refused to have on, saying there was too much violence and he found it depressing.
He'd watch videos frequently, as would Mum. Some of these were ordinary mainstream films - his favourite being
Bambi
. 'Breaks my heart, it does,' he used to say. ''Specially the bit where Bambi's mother dies.'