En smakebit på søndag kommer från den norska bloggen
Flukten fra virkeligheten
, och går helt enkelt ut på att bjuda på en smakbit från den boken en läser för tillfället.
Min smakbit den här veckan kommer från
Ghostly Echoes
, den tredje delen i
Jackaby
-serien av William Ritter. Serien utspelar sig i slutet av 1800-talet och handlar om Abigail Rook - assistent åt den excentriske R. F. Jackaby, en privatdetektiv som har förmågan att se övernaturliga varelser. Jag har skrivit om de två tidigare delarna i serien
här.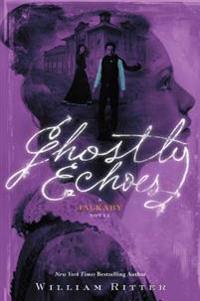 "Detective work is neither a happy nor a satisfying business, Miss Rook," said Jackaby, settling in as the amber buildings sailed past our window. "Marlowe will understand."
--
"I don't understand at all." Commissioner Marlowe kept his voice low and even as we sat across from him the following morning.
"What I mean to say," Jackaby explained, "is that our excursion yesterday was very instructive indeed."
"You found your missing woman?"
"Not exactly. Not remotely. No. We did manage to find a woman who was not missing." Jackaby's optimistic humor found little purchase on Marlowe's granite countenance. "And then we misplaced her," Jackaby admitted. "So now there are two missing women. Also there is a baby."
"What? A baby? Where did you find a baby?"
"We did not find a baby. The baby is also missing."
The commissioner's eye twitched as he set both palms on the table and took a deep breath.